Today Drew McManus had a post on Adaptistration titled "In the Age Of COVID, Necessity Is The Mother Of Invention." This was pretty timely because I had my own tale of adapting to the times to tell.
This weekend at my venue, we hosted our first live event since March -an outdoor cabaret performance on our fire escape. (Not so much an invention, I suppose since the first thing people did when the pandemic started was sing from their apartment windows and fire escapes.)
As you can see from the pictures below, we have a pretty substantial fire escape with multiple levels that can be used for performance. Since this was our first time out and we didn't want to expose more of our equipment to the summer heat and possible rain than necessary, we limited our activities to one level.
The audience sat in our parking lot. As you can see, we prepped the parking lot by chalking out seating pods. The seating was general admission and we undersold what we imagined our capacity to be in order to provide both our audience and ourselves with the flexibility to see how things developed.
We determined the size and number of pods to create by analyzing the ticket purchasing patterns. We drew out two person, four person, six person and in one case 10 person, pods based on how people purchased their tickets. The pods were spaced to allow six feet between groups of unrelated people. Then we allowed enough room on the perimeter for people who felt the need for greater distancing to set up as they wanted.
Our aim was to observe how many people chose the pods versus the open areas in order to get a sense of what our actual capacity for the space might be while ensuring good sightlines. We capped the event at 175 people, but now figure we can get up to about 250 and still ensure appropriate spacing and flexibility in seating location.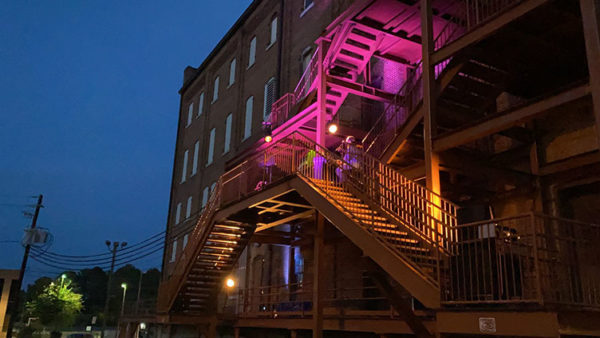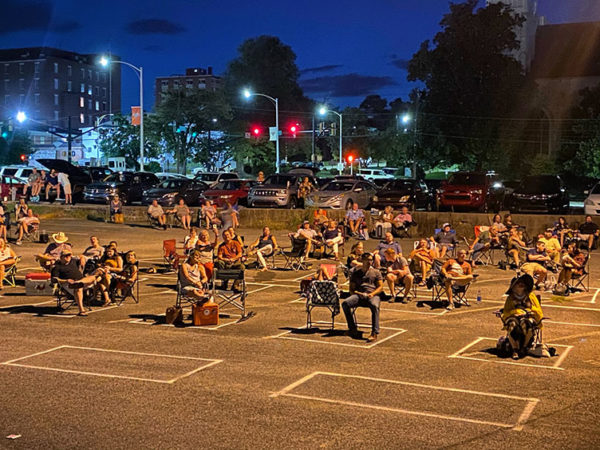 Our local mask ordinance requires that if you are anywhere outside your home within six feet of a person with whom you do not live, you must wear a mask. The example given is if you are waiting at a crosswalk alone, you don't have to wear a mask, but if someone arrives to wait with you, you need to be wearing one.
Since people were coming with picnic set-ups or could grab food from partner restaurants and didn't have to wear a mask while eating, our policy was you could only sit with people in your household and could remove your mask while seated in your pod with them. Since moving to and from that space requires becoming closer to others, you needed to wear a mask as you moved about everywhere else. By and large everyone heeded the rule and those that didn't we firmly prodded to comply.
One bit of fortunate timing was about three weeks ago the local government expanded permission to have open containers on downtown streets from First Friday only to every night between 4 pm-10 pm to allow bar patrons to use sidewalk tables restaurants and the downtown association had deployed. This allowed us to serve alcohol out of our own bar which helped improve the financial situation of the event.
Overall, it was regarded as a success and we are planning to run at least one more before it gets too cool this Fall. Stay tuned.