You may have seen news about Ulster County, NY's demon-spider I Voted sticker. It made national news because the design by 14 year old Hudson Rowan was so strikingly cool/strange and garnered a huge majority of votes last summer to become the official recognition sticker for the county.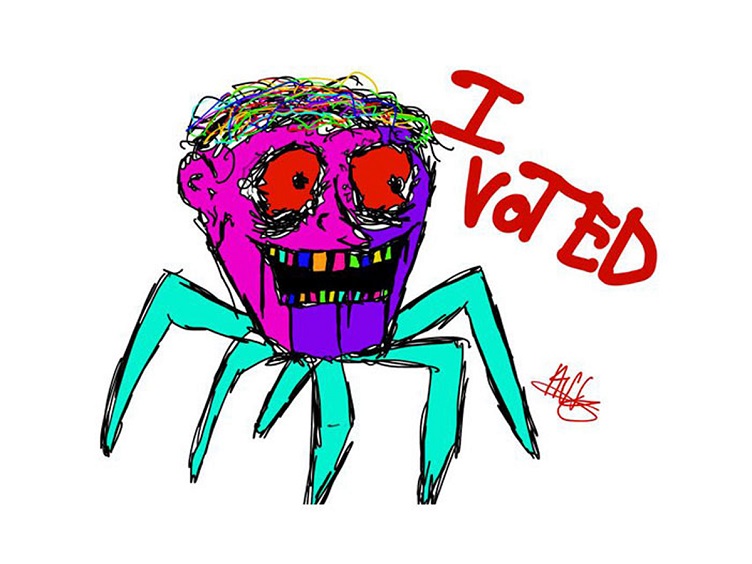 But a lot of places have their own distinctive flavor they apply to the stickers. A Bloomberg News article lists a number of them. Some of them are the result of an official branding effort, others like those in Alaska, feature images of wildlife created by high school students.
Of course, one of the first things that occurred to me is that this is one of those places in which civics and art can intersect. It might be worth the effort for local arts organizations and schools to look into whether there are opportunities to contribute to state or even county level sticker design. Getting students and artists actively involved in creating images for election stickers can potentially have beneficial effects.
These stickers brought to mind an entry I did a decade ago about Japanese manhole cover designs which are specific to every city in the country and reflect some degree of local pride. (Happily the Flickr account housing photos of the covers still exists so you can check out the cool designs.)
That post reminded me about a post I wrote on efforts in Lanesboro, MN where they had placed cast iron medallions around the community so visitors could engage in a sort of scavenger hunt. Not to mention the poetry verses that appear on signposts in parking lots around town as well.