Very big THANK YOU to friend of the blog Rainer Glaap who sent me a link to an UNESCO document, Culture in crisis: Policy guide for a resilient creative sector. At this point I think I am going to approach this document over the course of multiple entries because there is so much I see to talk about. At 56 pages, it probably isn't comprehensive but the suggestions it makes are well-considered.
UNESCO proposes three different areas in which governments can take action to support the culture and creative industries in light of the impact Covid has had upon them: 1 – Direct Support for Artists and Cultural Professional; 2- Support for Sectors of the Cultural and Creative Industries; and 3- Strengthening the competitiveness of the cultural and creative industries.
They have a number of proposed measures within each area. Today I am going to focus on the Direct Support area which had four suggested course of action areas: Social Benefits, Commissioning and purchase of works, Compensation for loss of Income and Skills Development.
I am going to provide screenshots of the content because I think they do such a good job presenting it. In each section they describe the measure, explain why it should be chosen, things to consider, pitfalls to avoid and then examples of good programs in different countries with different budget resources.
I appreciate the international perspective for the wide range of ideas of how to approach Covid related challenges, but also because it acknowledges not every country has the resources of a large industrialized nation, but can take effective measures to cultivate and preserve creative and cultural resources and practitioners.
What I really loved was Actions to Consider and Pitfalls to Avoid sections of each area because they anticipate things like support being perceived as hand outs or make work schemes as well as the problems with employing institutional standards to individual practice.
This is the one for the Social Benefit measure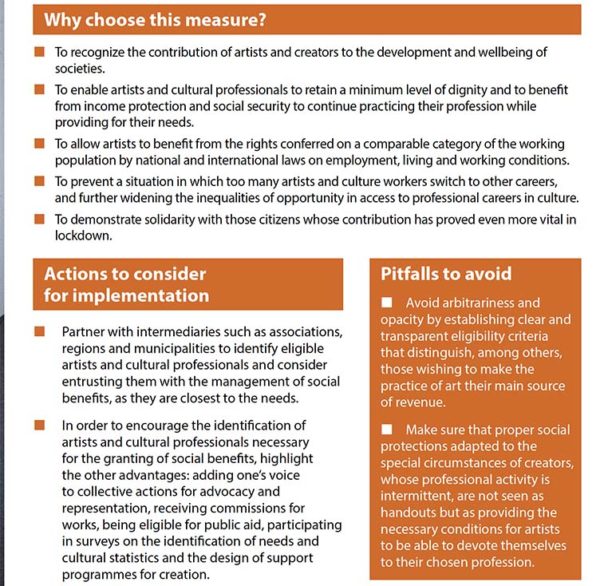 Here is the one for commissioning work.  Take note about the concern for maintaining intellectual property rights, valuing the work properly, supporting artists but guarding against institutional seizure of power.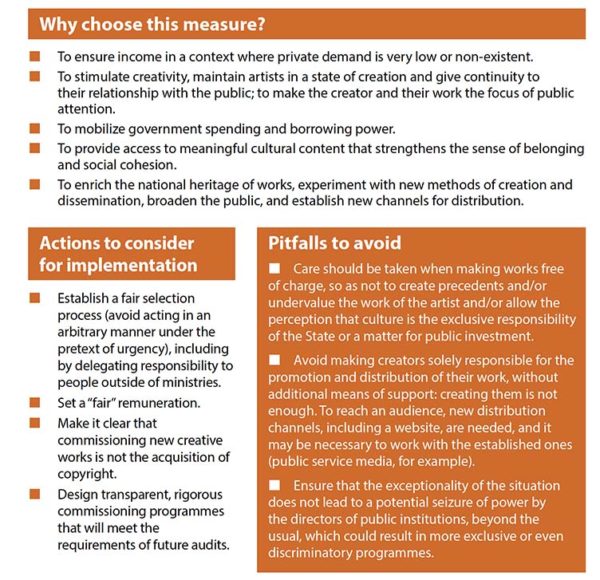 Here is the one for compensation of lost income. Note the concern for proper remuneration for female artists.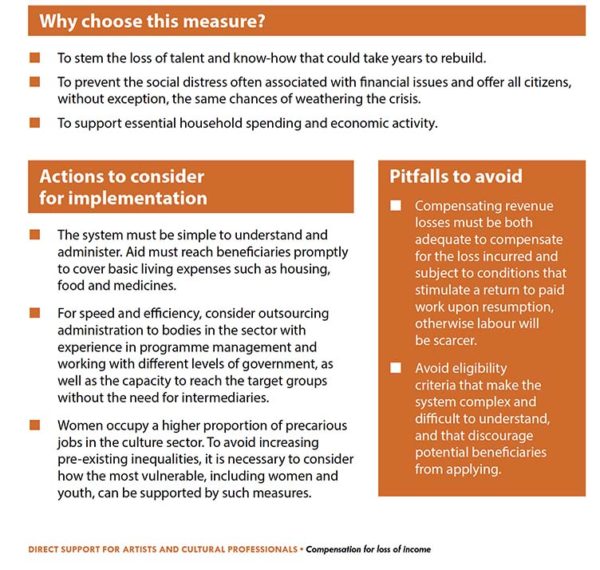 Finally, the skills development measure which is focused on experimenting so creatives are ready for the next normal.  Note that among the concerns is that this not be viewed as a stopgap until things revert back to "normal" as well as that the skills developed be put into practice quickly.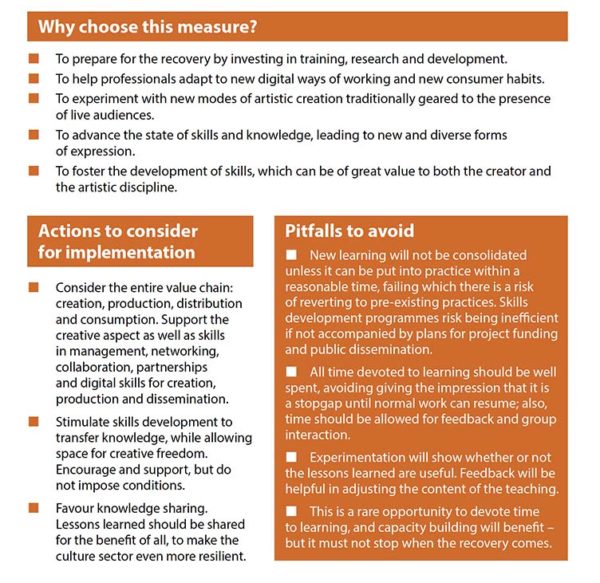 As I mentioned, there are also explanations of each category and examples of good international practices which I didn't screenshot for this post so definitely check out the document to learn more.