I noticed something very interesting on Friday morning as I was checking out different news sites. It appears that on at least a subconscious level a number of news outlets equate theaters with a return to economic vibrancy.
On the NBC News site, there was a picture of the Plaza Theatre in Atlanta.  Except for a single mention that movie theaters could open starting today, the entire piece was about the concerns hair salons, tattoo and massage parlors had about being permitted to re-open last Friday. Everyone interviewed for the story was associated with one of these businesses, no one from a theater involved in the story.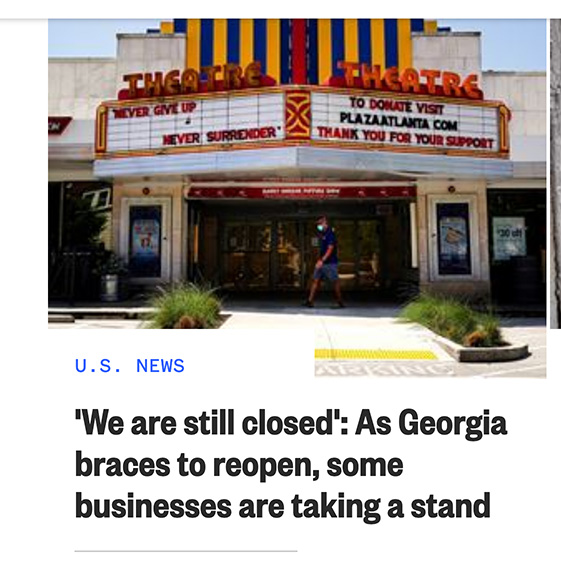 Within five minutes, I came across another article on Vox.com that was about unemployment benefits in Georgia, but used a picture of The Fox Theatre which had no association with the article at all other than being located in Georgia.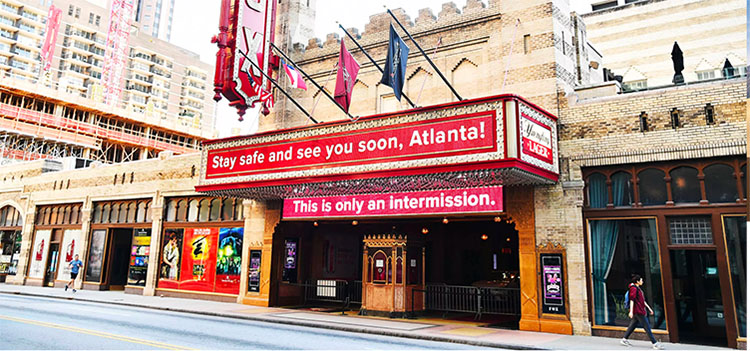 I sent an email out to the members of the state presenting consortium pointing out the use of theatre images as a type of shorthand for a return to vibrancy. I suggested we remember this fact when we moved to an operating environment which felt like the next normal. I don't know if it is the result of good advocacy work by local, regional and national arts entities, but if there are positive associations between the arts organizations re-opening and socioeconomic vibrancy, it is something to leverage in communications with the community, donors, funders, and government.
In response to my group email, a colleague in Marietta, GA sent out a picture of his theater as it appeared on NBC Nightly News the evening before. Again, he said the broadcast didn't mention the theater directly.
It can definitely worth paying attention to the images being associated with positive narratives to see if arts organizations are included. Perhaps even something to invite if the opportunity presents itself.