From the "I wish we could figure out the formula and bottle this" file, we hosted a showing of The Rocky Horror Picture Show on Friday.
The staff at the theater had been advocating for a screening for years before I started working here. I can perhaps understand why it hadn't been scheduled before. The screening rights are nearly three times any other movie, especially if you want to show it around Halloween, and Fox Pictures apparently also needs to sign off on it. (Rumor has it, Disney is locking down Fox's movie catalogue so Rocky might even become more difficult to show in the future).
Based on our usual movie attendance, we figured we might have 350 people attend given Rocky Horror's cult film cachet. We ended up with 900 people attending. We rarely sell even 25 tickets in advance of the date and we had 750 ticket sold prior to opening the ticket office that night.
A number of readers will think to themselves, of course it drew that size an audience, it is a legitimate force of nature unto itself. The movie was a regular midnight show in cinemas across the country throughout the 70s and 80s. Heck, there are still movie houses that continue to host screenings year round. It is the only movie where it is acceptable to shout at the screen. In fact, not knowing the raunchy, off-color ritual call outs marks you as an outsider and subjects you to embarrassing hazing in front of the entire audience.
(And yet apparently, clapping between movements of a symphony causes more anxiety than the prospect of literally being marked as a virgin of the experience and jeered at and pelted by a raucous mob of people, eh? Maybe the expressions of disapproval in an orchestra hall are too polite?)
The simple truth is, a smaller audience wouldn't be unexpected.  The screenings have become a lot less frequent than they once were. I remember when the movie came out on VHS tape, I thought it would be the death knell for the whole tradition if people could watch the movie in the comfort of their own home. The whole social aspect and "oral tradition" would be lost.
Granted within a decade or so, you could download a script from the internet that prompted you with the correct responses and actions, but that does nothing to prepare you for the experience.
There definitely has been a decline in familiarity with the show and its traditions. The guy playing Rocky in our shadow cast lost his  show virginity a month ago when the cast went to Atlanta to see the shadow cast at a place that runs the show year around.
Having a large audience in our community was by no means a foregone conclusion.
We worked to make the usual experience even more of an experience. We had a shadow cast that really put in a lot of rehearsal to make their presence an asset to the show.We posted interviews with each member on social media in an effort to garner attention and support from their family and friends.
We had karaoke, hosted by a local burlesque troupe, start in one of our bar spaces two hours prior to the screen time to help people get into the mood.
We also created prop bags, both to enhance the experience of people who had never participated, but also as a way to keep the food elements (toast, rice, etc) out of our recently renovated historic venue. There was still A LOT of clean up involved, but we were able to protect the condition of our space.
This is what is looks like before 900 people need to use newspaper to shelter themselves in a squirt gun rainstorm.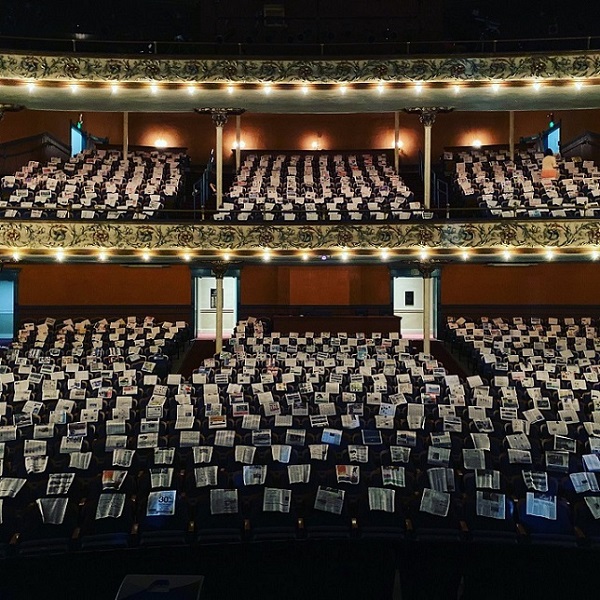 Since the Rocky Horror tradition is about 45 years old, the most interesting part of the experience was having 20-30 years accompanied by parents who convinced them to attend based on the experience those parents had when they were in their 20s.
We were really hoping for a swath of 50-60 year olds decked out in costumes, but there weren't as many as we were praying for. (Barry Bostwick performed here 6 weeks ago. At 74 years old, he could have still rocked the corset and fishnets.)
Only in America can multiple generations strengthen their relationships yelling insults at a 45 year old movie and thunderously stomping their approval at the entrance of a sweet transvestite from transsexual Transylvania.
Subscribe via Email
Enter your email address to subscribe to Butts In The Seats and receive notifications of new posts by email.