Below is a review/essay about the opera Arts Capacity collaborated on with the prisoners of Walker State Faith and Character Based Prison. The opera premiered on January 9th in the prison, and had a second performance on the 10th in public theater in Chattanooga.
Since this project has been too close to my heart, I don't feel I can offer a proper summary of the event itself. Instead, a Walker State Prison resident wrote this essay which sums up the whole experience better than I could have imagined.
I'm very proud of the various talents that are encouraged to blossom at Walker, and this writer is no different! I'm grateful the author shared his perspective and experience with the Cardboard Opera, "Waters Rising," his narrative gives a full and beautiful account of the project! When the author can have his name credited to this essay, I will update this post…until then, read on:
"After years of engaging with us at the Walker State Faith and Character Based facility, Holly Mulcahy envisioned taking our views and opinions to further an idea that would build upon our perspectives. It resulted in what now is called the "Cardboard Opera." And to give credit where it's due, and to say what may not be well known beyond our own immediate circles, it required more than our initial inputs but a great long-term collaboration with the residents of Walker to make it happen.
What kicked off this project was a set of questions asked of the Walker residents, since for the Cardboard Opera to be substantial it needed to tell our story. Questions such as, "Who were you?" "Who are you now?" and "Who do you hope to be?" were posed. Our introspections from these and other questions were analyzed and assessed. Over the next year this information was compiled and eventually found its way to Kendra Preston Leonard, a librettist, who used her gifts and expertise to draw from the data to write the Cardboard Opera called "Waters Rising."
The whole process of putting it all together was a huge collective effort with many creative parts coming together to make it happen. Tim Hinck, the composer who closely works with Holly and Arts Capacity, and who accompanies her during recitals at Walker, sought out the men's input with an open mind and a keen ear as he listened to our residents' reactions during each visit. With the information he gathered and with true understanding, he was able to compose just the right music to match our words, with phenomenal results.
Christine Bespalec, from the Hunter Museum of American Art in Chattanooga, assisted Walker's Arts and Crafts team to imagine how to present the story and to finesse the stage with a backlit screen, active water, cardboard rooftops, trees, props, and a full-size boat. The creativity was amazing. They used simple materials and great imagination.
At the outset, the Walker team leaders told Holly they desired for the project to portray what was in our hearts and minds in such a way that it could be shared with all humanity. They did not want this to be only about prisoners for prisoners, but about people for people. They also wanted to showcasing creative skills and what could happen when minds came together in one accord to build on the same purpose to – engender meaningful art.
What a show it was! Walker was the first to be entertained by it. But it was to go further as its first showing was only a steppingstone to a bigger audience. "Waters Rising" broadened its success at the next performance at the Chattanooga Theatre Centre where we hear it got rave reviews. The opera's triumphant appeal catered to the public with great merit.
So many people deserve their "flowers" as at the end of a performance, which is their due for this one-of-a-kind project that came to fruition with nothing more than a concept and plenty of brainwork. The collaboration involved so many different organizations and team effort between the residents of Walker, Arts Capacity, the Hunter Museum of American Art, professional and amateur musicians, volunteer singers from Chattanooga, Dalton, and various choral groups. Also, individuals from Texas, Illinois, and Colorado. The dedication to make this happen was astounding! The applause is for everyone.
What's equally important and what wouldn't be evident without mention here is how the whole ordeal affected the residents of Walker. Truly we've all been blown away by the sincerity of so many caring outsiders. Their commitment was sterling and heartfelt. They brought light to the spirit of uncertainty in our lives, and helped show us that we can be inspired by art. The nature of human compassion is to understand what's needed to bring joy to others in moments of skepticism and the servitude of the heart becomes a beacon of inspiration.
Ask any one of the Walker residents who witnessed the Cardboard Opera and you'd be met with statements of awe and amazement. The new experience was an eye opener for all, most of whom have never attended an opera. Amongst many comments were things like "Amazing!" "I enjoyed it immensely." "It was too short and left me wanting more." and "Spectacular!" Such comments circulated around the facility with emotion – peace in the soul, peace of mind, and a sense of fulfillment – all of which came with the exposition.
All the participating Walker residents who contributed their expertise and assisted with the show did a superb job. From props, lights, rigging, video, and sound to band and chorus members they were able to exhibit their talents behind the scenes as well as on stage. Kudos to all with thanks and appreciation for believing in themselves and sharing uninhibitedly a part of themselves.
I personally was a fan from the beginning idea. As a member of the audience, I was captivated by "Waters Rising" and the feeling it gave me was profound. The opera was like a metaphor that coincided with my life; the flood was the turmoil that bared the uncertainty of my future, and I was always seeking something that I didn't earn – only to realize that I was being selfish and going about things the wrong way. But as I've learned to conform and make adjustments against the downward spiral that harbored negativity, I started humbling myself by putting other people before me. In the environment that I live in you couldn't even imagine such an event realistically occurring. Not only has it become a memory to absorb but I'll forever embrace it in thought as it was my first opera, too. I only was "missing the tuxedo" as I mingled amongst the "select crowd" as a "member of the culture." What I also learned, however, is that it doesn't matter how I'm dressed to appreciate the musical arts or to appreciate art any differently based on who is sitting around me. The sound that touched me touched everybody the same way. We all heard the same thing. But what I've learned from Holly and her friends at Arts Capacity is that freedom to interpret it any way I want. She taught me that when it comes to my feelings about music there are no wrong answers. I've always had a love for classical music and I'm so grateful it is now played here for us at this facility. With the Cardboard Opera I feel as though a craving has been sated. Waiting the next chapter is a longing that I selfishly anticipate thanks to the amazing participants who left me inspired.
None of this would have been possible without the compassionate staff here at Walker. We're indebted to their generosity. Warden Kasper never ceases to show how much she'll allow us to experience. It comes from a caring heart. Although she opens the doors to civilian visitors who also have compassion to delight us in these very special moments, she gives us the chance to open our hearts and minds as well.
It's not just me who's grateful. We all are. We know that people on the outside have full lives. The time you put into us is so commendable. You remind us that we are not alone. These are hard things you do. It shows you truly care. You inspire us.
I'm grateful for the opportunity to offer a 1000-word essay to accompany a picture that by itself is worth a thousand words. At the end of the day, however, I could have expressed the heartfelt feelings of all of us at Walker with only two words. Thank you."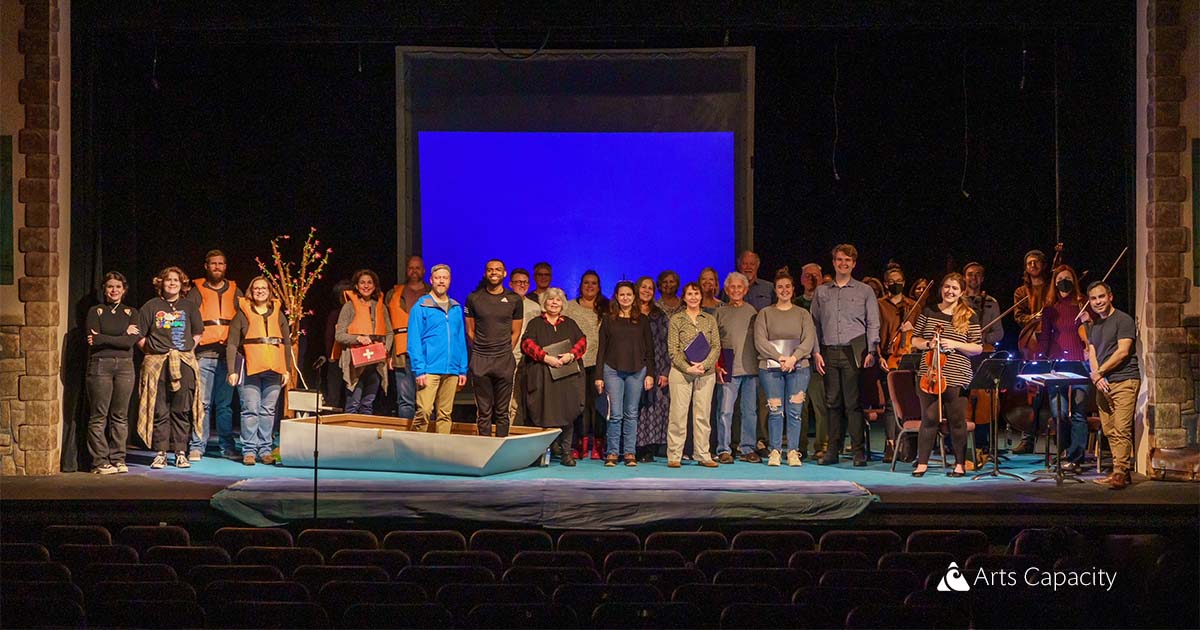 To support Arts Capacity, your donation can be given here.