Given that today is Indigenous People's Day, I wanted to mention some recent positive developments related to the arts and an increased presence and role of the Muscogee (Creek) people who once dwelt here, in and around Macon, GA. Macon is the site of the Ocmulgee Mounds National Historic Park where the Muscogee and allied tribes had long lived prior to being dispossessed to Oklahoma during the Trail of Tears.
For 30 years now, every September members of the Muscogee have returned to the park for an indigenous people's celebration. For the last two years, Covid has kept the event from happening, but this year brought about great changes. There is an effort to expand the  park into the Ocmulgee National Park and Preserve which would encompass about 54 miles river plains and over 900 historic and cultural sites. Tracie Revis, former Chief of Staff for the Muscogee Nation was hired on as Director of Advocacy by the local park initiative in the interest of providing the Nation with input into how the land would be used. The Associated Press recently did a great story on the effort.
Her arrival saw a great deal of momentum build toward the strengthening of ties between Macon and the Muscogee Nation based in Okmulgee, OK. There have been mutual visits, but art and cultural expression has played a large part in building the relationship.
A few months ago, Tracie was the featured storyteller at Storyteller Macon's monthly event and she told the stories behind three of her names. Last month, as the annual celebration was set to return to the Mounds Historic Park, the work of Muscogee Nation artists was displayed in an alley that had been set up four years ago with lightboxes to illuminate artwork. Each artist paired images from Oklahoma and the Macon area as an illustration of the ties between the communities.
The celebration was preceded by much fanfare and a banquet attended by dignitaries from both communities, including a multi-day visit by Secretary of the Interior, Deb Haaland, who you may recall is the first Native American cabinet secretary.
A number of theatres participated by posting welcoming messages.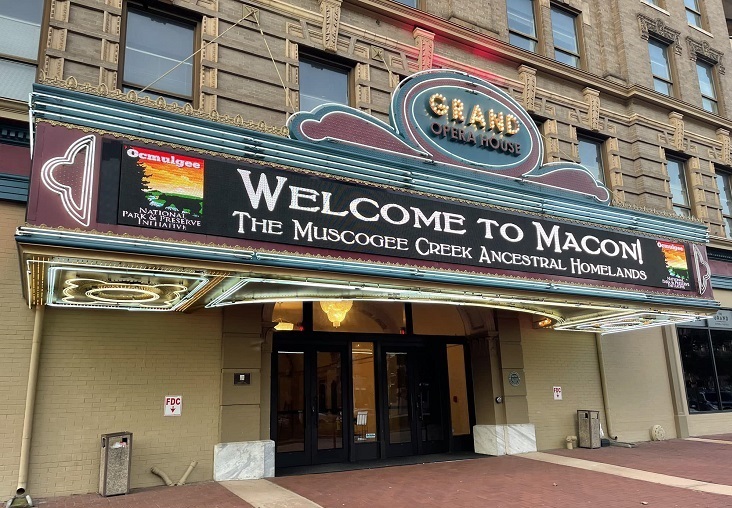 There is obviously a lot more work to be done. It is very easy to get behind exciting events and parties, but more difficult to have some of the conversations that may follow about preservation, acknowledgement and representation.  This progress has come much faster than I imagined it would. Four years ago, I was having trouble finding someone to discuss formulating an appropriate land acknowledgment. Last Friday I had lunch with a colleague who told me about a land acknowledgment being delivered by someone she thought would have been reluctant doing so.
Arts and cultural expressions haven't been responsible for these changes. There is obviously a will to see these things occur. But arts and culture have been among the avenues which awareness has been raised, relationships have been cultivated and conversations have been facilitated