You may have seen that the AMC movie chain decided to implement tiered pricing for their theaters with higher prices for preferred seating and lower pricing for less desirable front row seating and wheelchair spaces.
"The mega-exhibitor, which has already introduced sightline seating in select markets, is betting movie-goers will pay more for a better view of their favorite Hollywood titles, as do patrons of music and sporting events."
They are testing this pricing out in select markets so I popped over to the site Lincoln Square 13 in NYC to see what the chart looked like. Below are the recliner and regular seating arrangements for the new Magic Mike movies. The tan seats are the premium priced seats, the blue are the discounted seats and the white are regular price.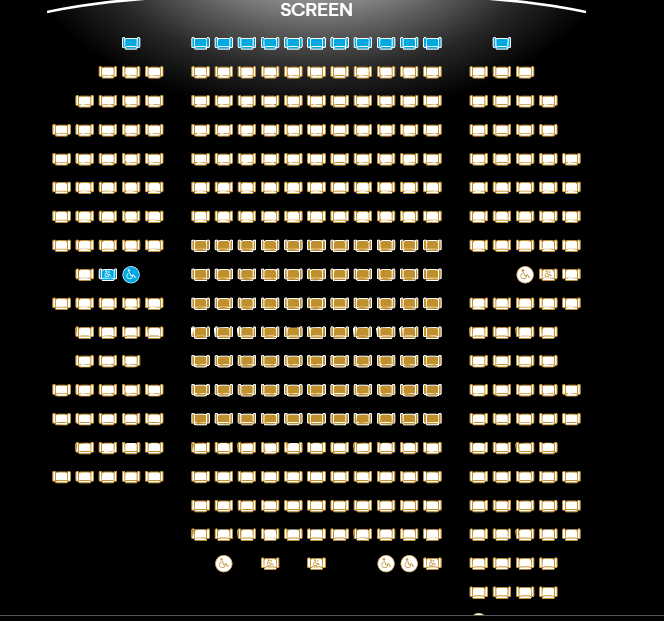 I should note that the recliner seating chart is for the 7:45 showing and the regular seating chart is for the 9:15 showing. I looked at the 6:15 screening chart for the regular seating and there are only a handful of seats sold. It may be that time is not really convenient, but it seems like a lot of folks in NYC are willing to pay extra for recliner seating plus a premium on a Monday night. And I assume AMC realizes 7:45 is probably more convenient and makes sure the screening with the recliners is available so they can make a little extra money.
That said, another Hollywood Reporter article on the same subject noted that Paramount worked with theaters, including AMC to lower the ticket price for the movie 80 for Brady, just days before AMC unveiled this new premium seating plan.
" For years, some distribution executives have argued in favor of variable pricing, whereby tickets are lowered depending upon a movie's target audience. In this case, Paramount presented evidence showing that older demos are more sensitive about ticket prices.

But no sooner had 80 for Brady opened over the Feb. 4-6 weekend to a pleasing $12.7 million then did AMC reveal Feb. 7 that it is implementing a hefty $1 and $2 price increase for many seats…The news quickly put the 80 for Brady initiative on the back burner since AMC's plan goes in the opposite direction by introducing higher costs.
This has created a bit of a philosophical tension between the two approaches-varying price based on target audience vs. vary prices based on seating location. Paramount says it won't have final numbers for another week or so, but preliminary data shows that admissions were higher for 80 For Brady than its other release, Knock at the Cabin. The latter ended up making more revenue than the former the first weekend of February, but by Monday Brady exceeded it in revenue.
There has been some criticism from some like actor Elijah Wood who says that these pricing schemes will exclude lower income families from an activity that has been relatively democratic.  Others are concerned that complicated pricing will provide an incentive to stay home and stream.
Hollywood studio executives, however, are concerned about the moviegoers who aren't as eager to pay more, or who already have doubts about resuming their moviegoing habits. Notes one distribution source, "my biggest worry is that all of this pricing becomes too complicated."